Description
[September 2022 update: Critical semiconductor shortages affecting this model!]
An ultra-compact low-noise 100MHz to 22GHz microwave signal generator.
After years of development DS Instrument's updated low-noise premium signal generator has been released! Offering lower phase noise, a wider frequency range, and more robust output level control than the standard SG22000. Like our SG6000 product line, this RF generator is fully programmable via SCPI commands (USB / Ethernet) or the front panel interface making it more flexible than any competing product. Offered as a higher performance version of the SG22000L, this upgraded microwave generator is aimed at phase-noise sensitive applications in X, Ku, and K-band development and testing.
Now shipping 2023 hardware version with additional low band harmonic filters!
SG22000PRO Features:
Single multi-band SMA RF output port

Calibrated RF output covering 0.1 – 22GHz (0.025 – 24GHz at reduced performance)
Calibrated power range (0-13GHz): -40 to +15dBm
Calibrated power range (13-22GHz): -20 to +15dBm
Uncalibrated power range: -40 to +17dBm typical
New harmonic filtering down to 1GHz (

2023 hardware

)
Output phase control 0 to 360 degrees in 1.0-degree steps (

2023 hardware

)
Power output level resolution: 0.50dB steps & ~0.05dB vernier control
Calibrated power output accuracy: ±1.0dB typical
Low phase noise -92dBc @ 20GHz @ 10KHz offset
Extremely small frequency step size (<2Hz)
Harmonic level (typical): < -20dBm
Ultra-low-noise 100MHz VCXO locked to internal TCXO or external 10MHz reference
Internal precision high-frequency reference source (±280PPB 10MHz)

Ethernet

& USB remote operation
Windows control software included (USB & Network enabled)
SCPI command aware via USB virtual COM port for remote control
Front controls and bright OLED display for stand-alone usage
USB-C powered (5V-2.0A), requires no extra DC adapter
Ultra-compact rugged aluminum case: 2.75″ x 1.25″ x 5.25″
Common RF Applications:
Automated testing environments
General RF lab use
Flexible LO sourcing
Antenna design
EMC testing
Production verification and test setups
Educational / university lab use
Aerospace / Defense Research
802.11n development / Testing
Ku-band satellite link testing
X-band radar applications
Up and down converting
Line of sight link testing
Wireless infrastructure design
Transponder verification
5G development
Mechanical Specifications: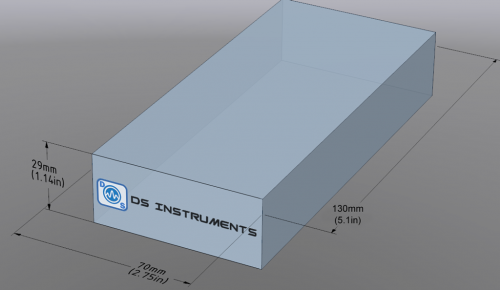 PC Control Software: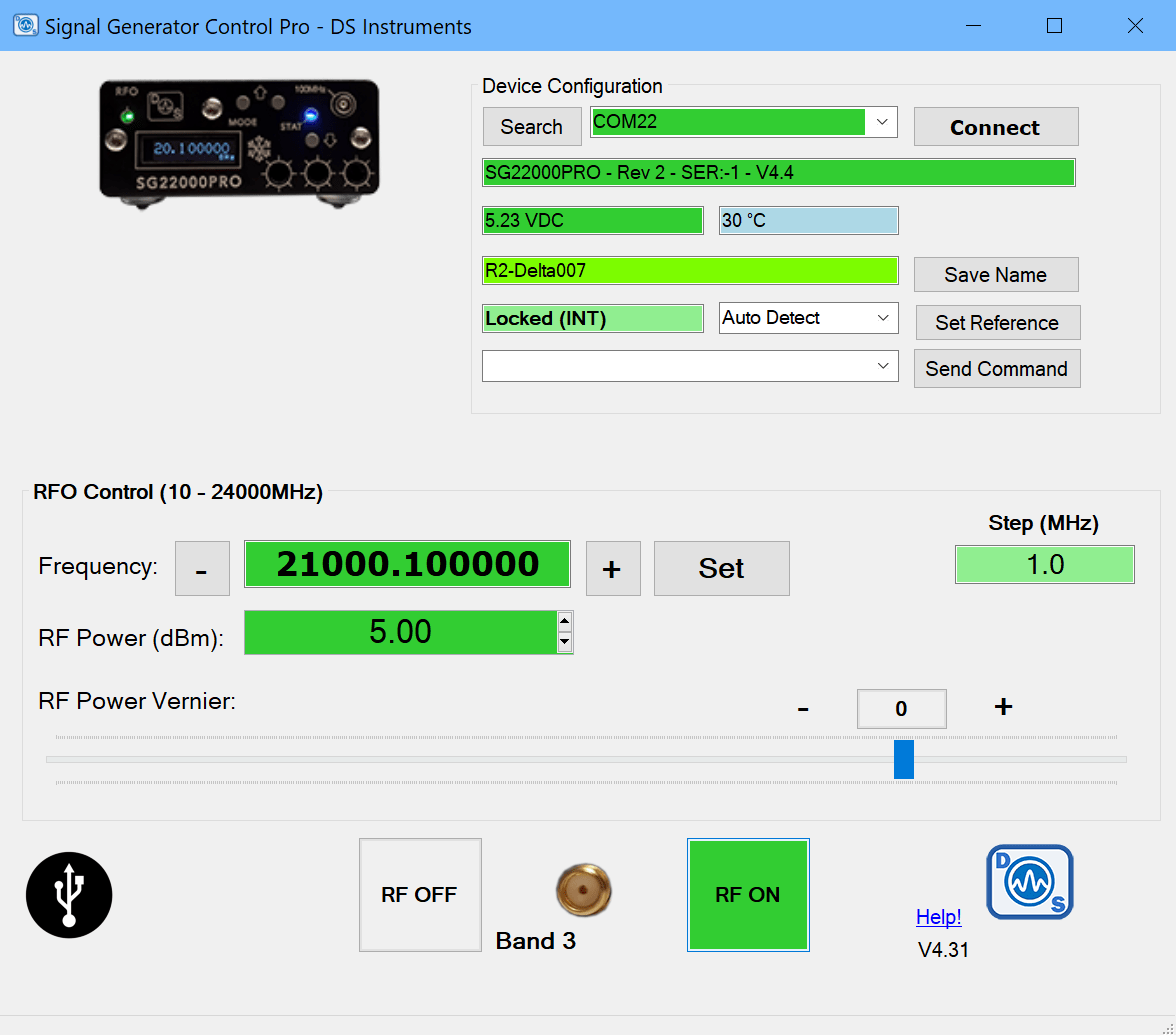 RF Performance Plots: