What is included with my order?

Along with your RF device, the order will include a support flash drive, USB cable, and printed intro sheets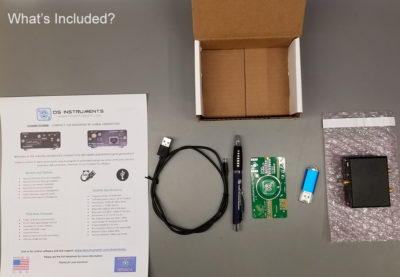 What is your typical lead time?

We are usually able to ship orders placed online withing 2 or 3 day.
What type of shipping do you use be default?
Orders are shipped UPS ground, or USPS Express for international orders. If we run late on an order we will use UPS 2-Day.
Can I pay for faster shipping?
Can I send a purchase order instead of ordering online?
Yes, we offer NET 30 for domestic orders, and pay-in-advance via wire transfer for international purchase orders.
Do you accept returns? For how long?

Yes, you can return any undamaged equipment within 30 days of your purchase!
There is no option to ship to my country, what gives?
We have exclusive distributors in certain areas that we are unable to service directly. These include: Japan, UK, France, and China.  Check our Distributor List.
How do I  send in a device for repairs?

No need for an RMA number, just send us an email with your information, and ship the device back to us in Nevada. We can typically process your RMA within a few days!
How often do your products need calibration?

Under normal conditions, no scheduled calibration is required. Solid-state surface-mount hardware designs save everyone time and labor costs.